联系方式
地址:NO.1-7,Ninghua Road,Licheng,Jinan,Shandong
电话:0531-88209909
手机:13287780017 13287780057
联系人:Mr.Li
邮箱:sino@jinansino.com
网址:http://www.jinansino.cn
Corn Puffs Snacks Process Line
作者:xinuo   日期:2015/5/20 10:52:15   来源:本站
Cheetos is a special type of squeezed food that is crunchy in the mouth. The corn is mixed with a certain proportion of water and then into the rotary head extruder. In the extruding machine, the compression and rubbing of the two brass plates, the corns form irregular contortions. Then cut the knife into the required length. Cheetos can be Fried and seasoned, baked and seasoned. The market is diverse, old and young, and popular.
Sample Show: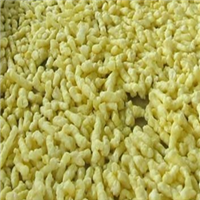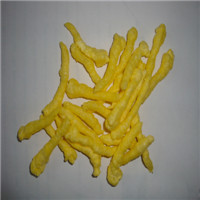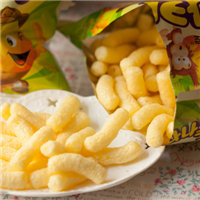 Production Line Equipment Configuration:
mixer→screw conveyor→single screw expander→elevator→roller grizzly→continuous fryer→vibrating screen→elevator→Seasoning cylinder

Device Type and Parameter:
type

paramete

BFJ-Ⅱ

mixer

LXSL-I

screw conveyor

DLG76

single screw expander

TSJ- II

elevator

GDS

roller grizzly

LXZG

continuous fryer

TUJ

Deoiling machine

TSJ- I

elevator

GT-II

Seasoning cylinder

(kw)

4

1.1

21

0.37

0.75

5

0.37

0.37

1

size(m)

1.1*0.8*1.4

3.2*0.4*0.4

2.1*0.95*1.5

2.4*0.5*1.9

2.4*0.8*1.5

4.5*1.3*3.2

1.5*0.8*1.5

1.8*0.8*1.55

2.5*0.85*1.85

Layout of production line:

This production line is the most basic configuration, standard production will be subject to actual configuration, can try to adjust according to the customer's requirements, in order to achieve the requirements of the product!