联系方式
地址:NO.1-7,Ninghua Road,Licheng,Jinan,Shandong
电话:0531-88209909
手机:13287780017 13287780057
联系人:Mr.Li
邮箱:sino@jinansino.com
网址:http://www.jinansino.cn
DLG130-Single Screw Extruder
作者:xinuo   日期:2015/5/19 11:18:25   来源:本站
DLG130-Single Screw Extruder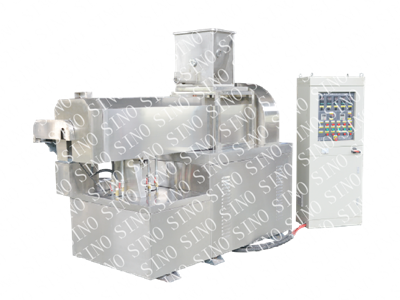 ◆To potato starch as raw material, after curing, producing shell, screw, square tube, pipe designs new products;
◆With flour as raw material, not directly by the dry Fried is the hot pizza rolls on the market at present, intestine, etc;
◆As the main raw material can produce such as rice, konjac artificial rice nutrition.
Equipment characteristics:
◆Main motor, feeding and rotary cutting adopts frequency control, power strong, run
◆Extrusion system equipped with six set of temperature control and automatic cooling device, temperature control is accurate and reliable.
◆Screw barrel adopt alloy steel material, the screw life is longer;
◆Two-way control, temperature control heating/cooling temperature control more accurate.
Model and main technical parameters:

Model


capacity


Installed capacity

(kw)
actual consumption


Speed control mode

(m)
Dimension

DLG70

60kg/h

15kw

8kw

变频/Inverter

1.9*0.7*1.45

DLG100

100kg/h

36kw

28kw

变频/Inverter

2.7*0.9*1.9

DLG110

120kg/h

31kw

25kw

变频/Inverter

2.2*0.8*1.9

DLG130

400kg/h

78kw

62kw

变频/Inverter

2.0*0.8*1.9

DLG150

260kg/h

98kw

75kw

变频/Inverter

3.8*1.0*2.5

DLG130-II

300kg/h

23kw

16kw

变频/Inverter

2.2*0.9*1.8